Introducing Manvert Silikon Your Protection Against Unpredictable Weather This Season
January and February are commonly hot months for the northern parts of South Africa, but this past season has been unusually hot and dry thanks to the El Niño weather phenomenon. Though many agricultural news outlets warned against the weather event that characteristically brings high temperatures and little rain, there was not much else producers could do this season but plant and hope for the best.
The Western Cape has only recently recovered from one of the worst droughts the province has experienced in over a century, while most of the northern provinces of South Africa such as the Free State, Gauteng, North West, Mpumalanga and Limpopo are still trying to recover from the 2015/2016 drought.
Producers are faced with tough conditions and even tougher decision this year. Fortunately, Remitto has now made Manvert plant nutrition products available in South Africa through its DNA Plant Science division. Manvert is considered a specialist in the field of vegetal nutrition and a leader in the development of biostimulants suitable for agricultural use.
What are biostimulants?
Biostimulants along with genetic improvements and integrated disease management programmes play a determining role in the future of food security. Biostimulants may contain various organic and inorganic elements that assist crops during abiotic and biotic periods of stress. Biostimulants can also assist with flower setting, increase sugar content in fruit, promote sprouting, new leaf and root growth and extend the storage time of fruits and vegetables. Ultimately, the goal is to maximise the value and quality of a producer's crop.
What product should producers use to protect their crops against the current dry conditions and possible early frost?
Manvert Silikon is a silicon-based product that help plants overcome hydric stress while increasing productivity and the quality of agricultural crops during periods of extreme environmental stress.
How does Manvert Silikon Work?
Maintaining the correct water balance can be challenging. During periods of too much water, the silicon particles absorb the surrounding water, drying the surface and reducing the water available for fungal growth. When the plant experiences water stress, a reversible reaction occurs where the silicon releases the retained water, making it again available for the plant as needed.
The nano-silicon particles also reduce transpiration thereby improving the water efficiency of the plant.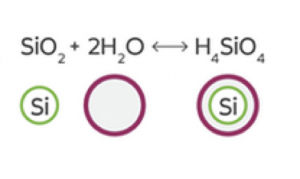 Silikon's strengthening mechanism is achieved through the accumulation of the silicon in the epidermal tissue. Due to the nature of silicon, it forms a polymeric, organic and crystalline framework that protects and mechanically strengthens the plant against attack from pathogenic microorganisms.
How is Manvert Silikon applied?
Manvert Silkon can be applied preventatively in order to activate the self defence mechanism against abiotic and biotic stress.
General average rate recommended: Can be applied by foliar application at 500 ml/ha twice, 15 days apart.
*Manvert Silikon is compatible with the most commonly used fertilizers and pesticides.
To learn more about our range of Manvert nutritional supplements or to speak to one of our consultants for assistance in choosing the right products for your crops, please contact Remitto today.